Emergency Preparedness
The Township of Black River-Matheson adopted an Emergency Management Program on November 17, 2008.
Our Emergency Plan which includes topics such as the Purpose of the Plan, Evacuation Procedures and Specific Responsibilities can be viewed by the general public at the Township Office.
Useful Links
Ontario Emergency Management
Winter Storm Safety Tip sheet
Emergency Plan
72 Hours – Is your Family Prepared?
Everyone should be prepared to take care of themselves for a minimum of 72 hours. If a disaster happens in our community, it may take emergency workers some time to get to you as they help those in desperate need.
You will need some basic supplies and be prepared to get by without power or tap water. Be prepared to be self-sufficient for at least 72 hours.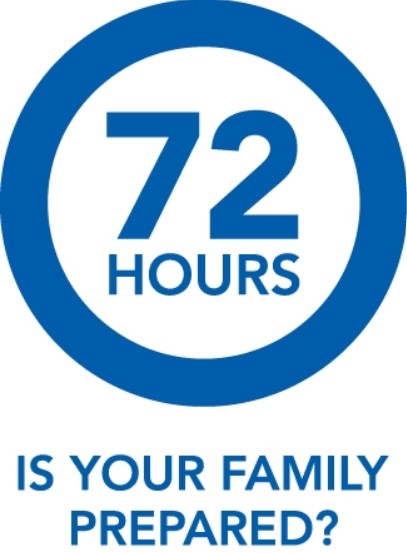 You may have some of the items already, such as canned foods, water and a battery operated or wind-up flashlight. The key is to make sure they are organized and easy to find. Would you be able find your flashlight in the dark? Make sure your Emergency Kit is easy to carry and everyone in the household knows where it is. Keep it in a backpack, duffle bag or suitcase with wheels, in an east-to-reach, accessible place, such as your front-hall closet. If you have many people in your household, your emergency kit could get heavy.
It's a good idea to separate some of these supplies in backpacks. This way, your kit will be more portable and each person can personalized his or her own grab-and-go emergency kit.
BE PREPARED! MAKE A PLAN AND PREPARE A KIT!
Get started now - Be Prepared!
In case of a major event you will need some basic supplies set aside. Making a Home Emergency Kit can be quite easy; it's just a question of taking some time and putting it together.
You may have some of these basic emergency kit items already, such as a flashlight, battery-operated radio, food, water and blankets. The key is to make sure they are organized, easy to find and easy to carry (in a suitcase with wheels or in a backpack) in case you need to evacuate your home. Whatever you do, don't wait for a disaster to happen.
Easy to Carry – Think of ways that you can pack your emergency kit so that you and those on your emergency plan can easily take the items with you, if necessary.
Water – Two litres of water per person per day (Include small bottles that can be carried easily in case of an evacuation order)
Food – That won't spoil, such as canned food, energy bars and dried foods (remember to replace the food and water once a year)
Manual can opener
Flashlight and batteries
Battery–powered or wind–up radio (and extra batteries)
First aid kit
Special needs items – prescription medications, infant formula or equipment for people with disabilities
Extra keys – for your car and house
Cash – Include smaller bills, such as $10 bills (travellers cheques are also useful) and change for payphones
Home Emergency plan – Include a copy of it and ensure it contains in-town and out-of-town contact information.
Learn about the potential risks and hazards in your community and make sure everyone in your family knows what to do before, during and after should an emergency disaster strike.
Subscribe to Our News
Stay up to date on the Township's activities, events, programs and operations by subscribing to our News.